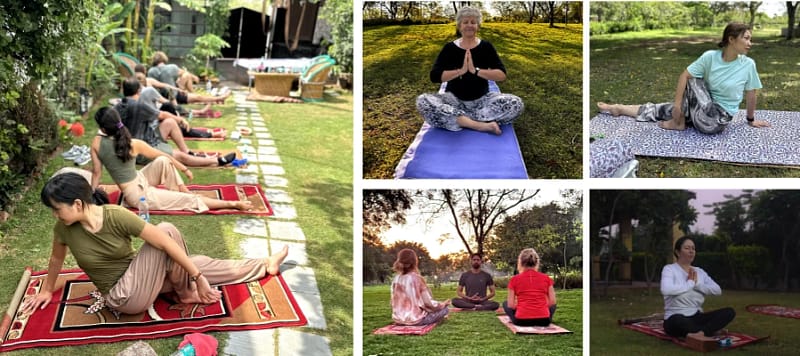 The city of beaches and cathedrals has nothing but the most beautiful scenes for a person to visit. And yoga tours took a step forward and opened a center for its customers after such a positive response from yoga at Jaipur. Tourists can't stay at a place for a longer time, so they can continue yoga from where they left when they travel to a new city; keeping this in mind, yoga tours have opened up branches in most cities on unique demands of their customers. So get ready to practice yoga in India's beach city with the plus point of stunning locations and weather.
Pushkar is known for surreal sightseeing spots. And taking in the aura of real Indian culture, one can join yoga classes in the city itself. Yoga sessions in the morning breeze is a moment that is never to be missed upon. The beautiful sunrise adds to the memories. And the evening sessions are more beautiful with the sunsets. Yoga tours would provide you the best services all over the city. We are giving drop services at the most affordable prices and the best yoga sessions for a lifetime experience.
Delhi being the heart of the country, obviously has many institutions of yoga for interested foreigners. But already an acclaimed institute in Jaipur and awarded as best by the reputed site 'Trip advisor,' we continue to take forward Delhi's good name. We promise to host our guests with the best services provided in the country. You can always feel free with our trainers in Delhi who would adjust to your comfort level and help you achieve the goal of being a true yogi. None of the guests have left with negative feedback but with a smile on his/her face.
Being one of the holiest cities of the country with a home to hundreds of yogis and sadhus from all over the world. Tourists prefer yoga classes because of its scenic beauty and close to the Ganges' holy river, and utmost peaceful environment. The city has over 130 yoga training schools for foreigners. There are many daily drop classes, and options are many but with such positive and precious feedback from our customer's yoga tours serve you the best of all. Other institutions may charge you more And not give you satisfactory services, but our institute's minimal fee would give you the experience of a lifetime.