Yoga Teacher training Course
"Unleash your inner yogi and become a certified teacher of transformation."
Yoga can heal your body, mind and soul but only those who persevere to learn the secrets of this ancient art can reap its full benefits.
If you are also a seeker of knowledge and want to enlighten your mind with the power of Yoga to benefit yourself and others, our Yoga Teacher Training course is for you!
We provide 300-hour and 200-hour yoga training courses across different major cities in India including Rishikesh, Jaipur, Goa, and more. With our yoga training course, you gain first-hand knowledge of different forms of yoga, such as Hatha Yoga, Vinyasa Yoga, Ashtanga yoga, Iyengar yoga, Kundalini yoga and more.
We have certified and experienced yoga teachers who have devoted their lives to yoga  and want to spread their knowledge to the next generation of yogis.
You not only learn the physical aspects of yoga but also the spiritual ones and how it can help heal one's body and mind. By the end of the course, you will have a better perspective of this art form and will be proficient in teaching it to others. 
What makes our teacher training course unique is that you can try our classes before you commit. We will help you throughout the course—in case you have trouble with the learning process, curriculum, or anything else—we will guide you.
Trust us to give you a learning experience like no other teaching course in the country. We will help you every step of the way in this transformation journey!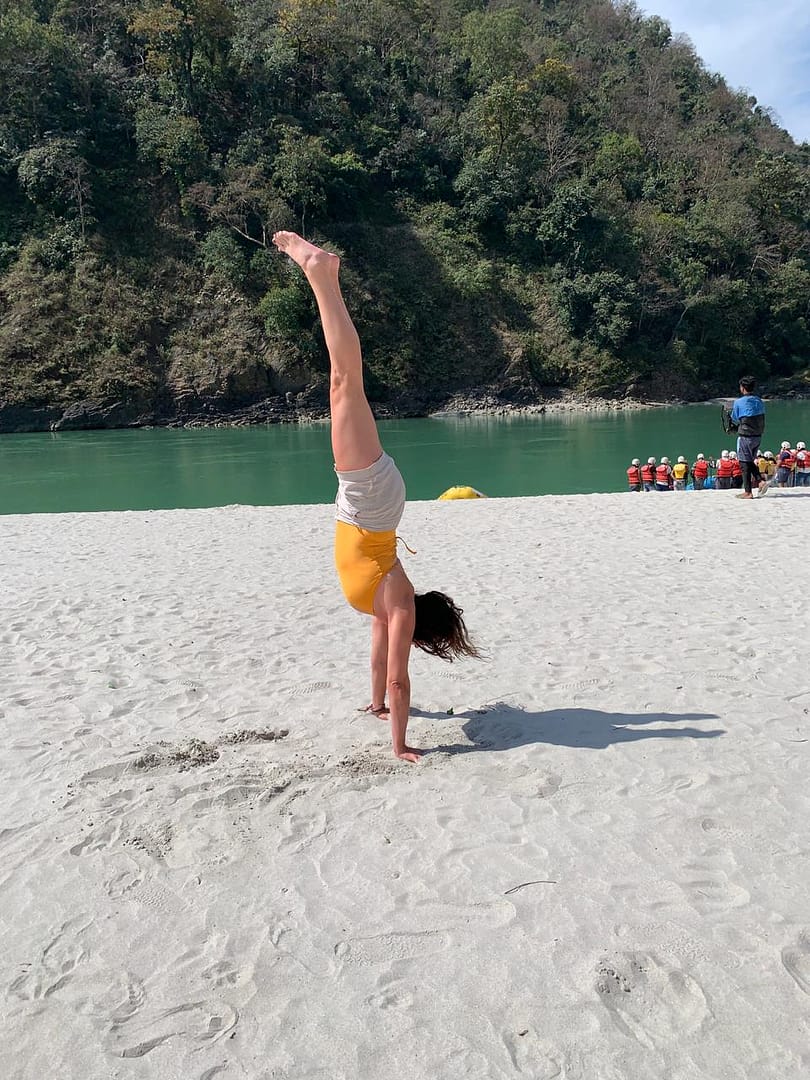 RISHIKESH
Yoga Teacher Training Course in Rishikesh : Enhance your practice, deepen your knowledge, and become a certified yoga teacher with our transformative training program.
BOOK NOW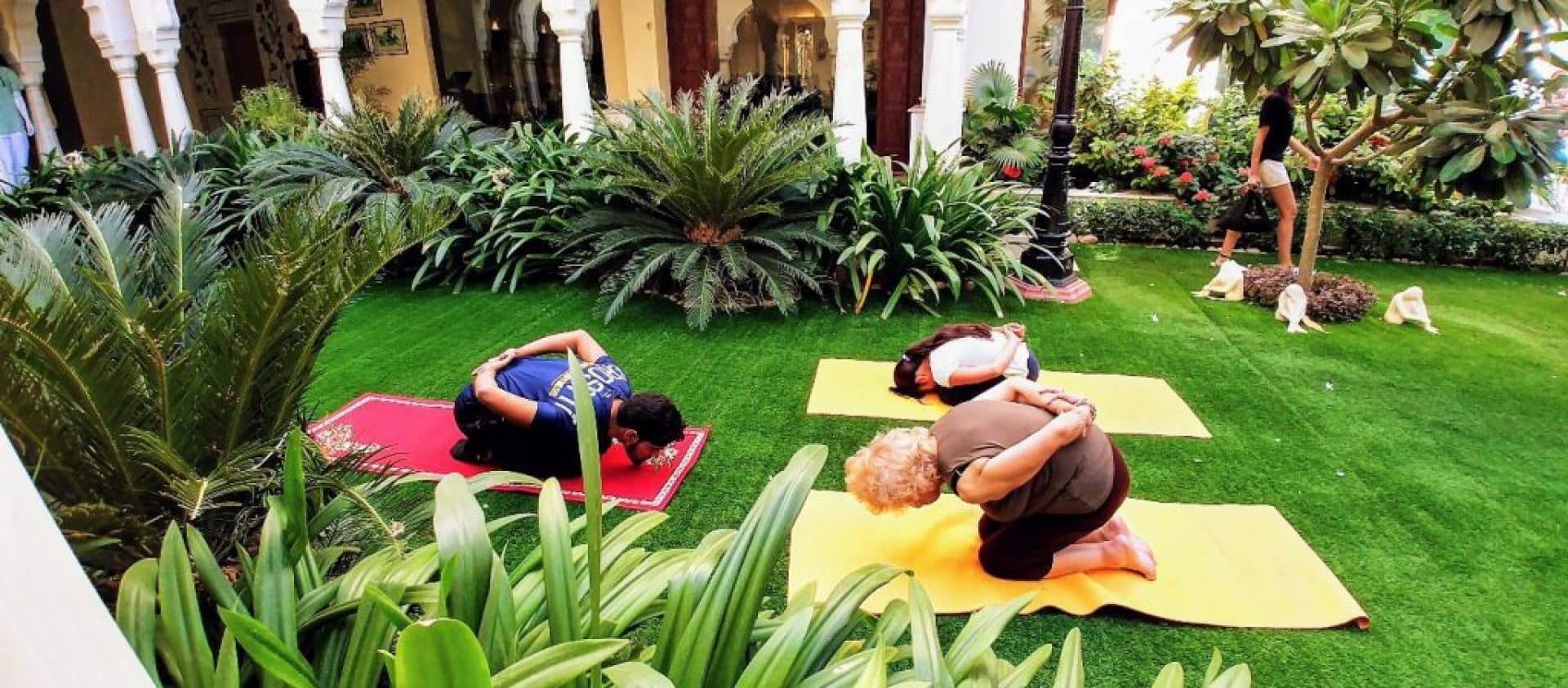 GOA
Yoga Teacher Training Course in Goa : Dive deep into yoga's essence amidst Goa's serene beauty, embracing personal growth and igniting your passion for teaching.
BOOK NOW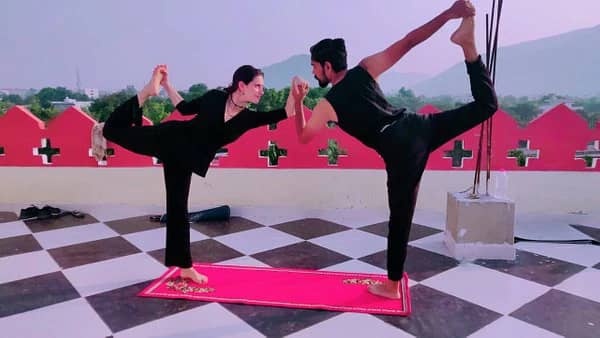 JAIPUR
Yoga Teacher Training Course in Jaipur : Become a certified yoga teacher in Jaipur. Transform your practice, deepen your knowledge, and inspire others on this immersive yoga.
BOOK NOW
Unforgettable Yoga Experiences in India
See what people are talking!
Verified
Jaipur delhi agra with Yoga We wanted to visit Jaipur delhi agra searched many company and luckily we found this company where all other company offer only golden triangle we found This company offer also yoga trainer with Golden triangle so.i enquired with this company they arrange very good English speaking Tour guide in every city yoga class in delhi and and Jaipur our experience was amazing highly recommend this if you are looking for Golden traingle with best Yoga class and professional Drivers and Tour Guides.
Verified
Best golden triangle yoga Tour I booked Jaipur Delhi Agra yoga tour with this company and my experience was amazing.From my first enquiry to end the tour they were given personal attention to my family and helped us with the best solutions The hotel suggestion was better than my expectations clean car English speaking driver local guide in every city with lot's of local experience suggestion and then the best part was Yoga our yoga amazing yoga trainers in Delhi Agra and Jaipur in Jaipur Ankit teach is very deep explanation about history of yoga and then poses and their benefits I tried yoga classes in many place where they give only instructions in this yoga tour our trainer helped us with do and don't all information and way of enjoying yoga it's was very relaxing and amazing Ankit Ji we will be Happy to do another tour with your company soon and we will be happy to recommend many as we can Thank you so much for amazing trip I highly recommend everyone to try this instead of simple yoga tour this is much better highly recommend..
Verified
good start to the day The operators worked with me to set a time and different location that worked with my tight schedule. The yoga instructor was very nice though some of the moves were a bit advanced. It was a wonderful way to start my day before the Delhi heat set in.
Verified
Wonderful experience I so enjoyed an early morning yoga practice with Ankit in Central Park Jaipur. A beautiful location on the grass in the shade of the trees. He gave me enlightening insight into the practice of yoga and all the incredible benefits for my mind & body. He pitched the practice to suit my ability in a gentle professional manner. I can highly recommend Yoga in Jaipur with Ankit. Thank you for a wonderful experience.
shubhpareek125
2023-02-26
Verified
Amazing yoga class in Delhi Agra and My favourite yoga class in Jaipur I visited Delhi and I found this company on TripAdvisor as I do regular practice of Hatha and Ashtanga yoga I was curious to know more about yoga class in Delhi Agra and Jaipur so I enquired about yoga classes I spoke with founder of the company Ankit He explained the concept and arranged yoga class in Delhi by vardaan in Agra By Amit and in Jaipur By Ankit I really enjoyed yoga classes in I highly recommend this company I had some health issues Ankit suggested some excercise I am really very good results only in a week I so happy that I tried yoga class and highly recommend every traveller to try their services Thank you so Much Ankit and his entire team for great services.
Verified
Superbe cours de yoga au coeur de Central Park - Jaipur Nous avons fait un cours de yoga avec Ankit ma mère et moi. Le cours a eu lieu dans le Central Park de Jaipur ce qui fût très agréable. Ankit est très professionnel, sympathique et donne vraiment envie de s'améliorer dans sa pratique ! Ma maman et moi-même avons toutes les deux adoré l'expérience. C'était super qu'Ankit soit accompagné d'un ami ainsi nous avons reçu à la fin du cours de superbes photos souvenirs via Whats app. Enfin, Ankit a eu la délicatesse de nous déposer ma maman et moi à notre hotel ce qui n'était pas prévu mais ce fut très apprécié! Pour toutes ces raisons mille mercis Ankit et à bientôt nous l'espérons! Je ne peux que recommander de booker un cours ou un yoga trip avec lui ou son équipe, vous ne le regretterez pas!!!
Verified
Best yoga course I always wanted to take up yoga as a hobby and inculcate it in my daily life, I came to know about Verdaan's yoga course which was quite well renowned among my social circle and I specially travelled to Delhi to meet him and learn everything under his direct supervision.The introduction to yoga course was highly insightful and engrossing for me, I learnt everything ranging from warm-up to the basic yoga poses and breathing techniques. The classes were well planned and catalogued in terms of activities to be done and the place where the next class would be held. Verdaan was very punctual and since I was a beginner, he was very patient with me and was willing to go out of the way and spend even a bit extra time with us very patiently.
Verified
Wonder! Ankit was a great instructor and opened our eyes to the depth of yoga. We did yoga in Central Park in the morning and had a wonderful experience. Ankit is very knowledgeable and professional. We recommend taking a class with Ankit!
Verified
No regrets to rise early I was facing issues with my work life balance, and in January first week I decided to go visit my cousins in delhi. They just introduced me to my new yoga instructor, Verdaan. After meeting him and completely impressed by his personality, decided to join his 10 day introduction to yoga course. I was little skeptical of the timing, "late riser alert", but pushed myself out of the bed, and i do not regret doing that.We used to meet at places like lodhi garden or nehru place. And the 1-1.5 hour classes were well designed.He took care of our warm up, the form and even heard to our problems. A professional in every way. The course included asans for begginerd and they taught us all.It was a great experience learning yoga from him. He went out of his way to give is bit extra.
Verified
Amazing experience It was a really good experience. I'm a beginner and I felt very comfortable with the class. No previous experience required. We had a 2 hours experience in a beautiful park in Jaipur including meditation and explanation. I would like to come back.
Each Moment Is An Opportunity To Be Kind To Yourself And Your Body
Discover the power of self-care with Yoga. "Each moment is an opportunity to be kind to yourself and your body." Embrace the journey of wellness and nurture your mind, body, and soul through yoga. Join us on a transformative path of self-love and find harmony within.
See what people are talking!
Sudhakar Thakur
2020-05-25
World best yoga trainer
NITESHKUMAR MEHRA
2020-02-21
I have planned to visit Rajasthan and luckily I found this company on Google. Booked Rajasthan with them booked car , driver , hotel ...and yoga in 5 cities everywhere I found excellent services. ..they deserve excellent reviews...I highly recommend here and all my friends ....trust me you will always feel comfortable they are amazing....!! I wish I could give more then five rating.....Thanks again and Again...
I love yoga and travel visited many beautiful places and yoga classes I saw this on Google and thought to do this I emailed and talk with this ajent ... about my interest ..and suggested some good ideas....after that we started this tour and I am highly thankful to this company.....for this tour program.....it was amazing . The yoga trainer Ankit is very knowledgeable for yoga and also for tour programme me and my wife feel very safe. ..and comfortable with Ankit his way of explaining and management is outstanding.. everything on time ....they are amazing thanks Ankit and his company...I highly recommend this to anyone...
himanshu pareek
2020-02-16
It was great experience for me and my family I highly recommend this tour company in India our yoga trainer is great knowledgeable friendly